Unique Charcoal Barbecue
QuickStart® & QuickStop® systems make this grill stand out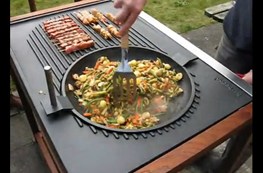 You can cook for up to 16 people with the Barbecook® Master which uses a combination of direct and indirect grilling. It features a stainless steel charcoal bbq that slides easily between the cast iron griddle and the grill or wok. The height of the grill and wok attachments can be changed to suit your needs or based on the temperature of the charcoal
The Master is equipped with casters for easy moving and comes with a side table complete with a cutting board. Because the two aren't attached you can configure your outdoor cooking area anyway you like. The barbecue is constructed of eco-friendly wood and has bottom storage racks.
The most unique thing about the Barbecook® Master is the QuickStart® and QuickStop® technology. With the QuickStart system you can have charcoal ready for cooking in only 15 minutes. The barbecue also features a handy adjustable air supply. The QuickStop system allows you to sweep the ashes into a water filled base, which extinguishes the fire and can be easily dumped.
The Master, which is manufactured in Belgium, can be purchased in the U.S. through Gourmet Grills at the affordable price of $995.
Learn more about outdoor kitchen design